Transit High Roof Long Extended
Plenty of room for family excursions or extended adventures for two
Much like the difference between the Sprinter 144 and Sprinter 170, You get the same list of considerations between the Transit 148 and 148 Extended (EXT). The Transit EXT shares the same wheelbase as the standard Transit 148, but offers more room behind the rear axle. This van is a great choice for families, full-timers, and some of the more elaborate conversions with lots of creature comforts.
Configure This Van
Quick Take
Base Price: $42,820 (High roof cargo, conversion not included)
AW Compatibility: High Roof Cargo
Engine type: 3.5L V6 Turbo Gasoline, 3.5L V6 NA Gasoline
Total length: 22' 3"
Adventure Wagon Compatibility and Other Considerations
Interior size with AW System installed*
164" long (from behind the front seats to the rear trim)
79" high
69" – 61.5" wide (tapers from floor to ceiling)
*Measurements are approximate and were taken with the Adventure Wagon Interior System and Smartfloor installed.
*A note regarding the New Transit Trail model: We expect our system to be fully compatible for install in the Trail, however we have not yet seen one to confirm this. From the information we got from Ford, the only item that we expect to have an impact is the optional roof fan offered with the Trail model. We expect we'll be able to make accommodations for this, and have a Trail with the fan on order to do the necessary RnD.
Seating and Sleeping
The Transit 148 EXT is Ford's equivalent to the Sprinter 170. As such, build-outs and floor plans tend to follow the same set of considerations. For the family of 4, there is ample room for "bunk" style MOAB beds in the back, which leaves roughly 40 sq. ft of space in the middle of the floorplan for extra seating, storage, and perhaps even a galley. If you're only accommodating 2 people, you have all the room you'll need for gear storage, kitchens, even toilet/shower combos.
Off-road capabilities
The Transit EXT isn't going to be the first choice for off-road adventures due to the poor departure angle created by the rear bumper (the back has a tendency to drag in uneven terrain). However, with Ford's optional AWD, you'll have all the capability you need to explore dirt roads, two tracks, and have a confidence-inspiring driving experience in all weather conditions.    
Upkeep
Given the fact that Ford is a domestic brand, Transit owners will find much more access to service options, whether it be from the dealership or third-party mechanics. Those interested in the Transit should not overlook their base 3.5L V6 as it requires less maintenance than the turbocharged version, and has better average fuel economy.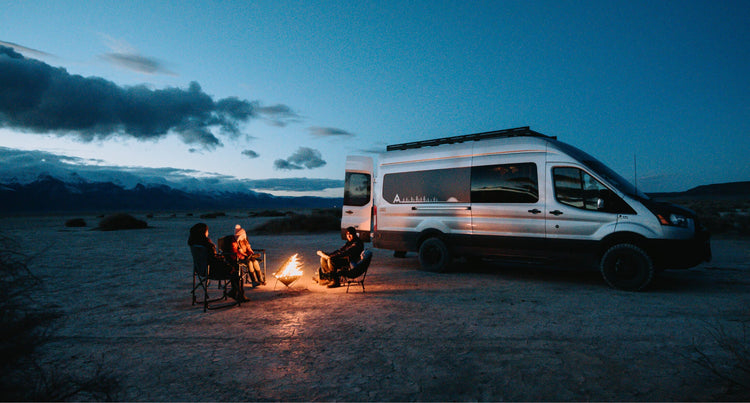 Customize Your Adventures
Our van configurator allows you to build your interior to match your lifestyle, from the number of passengers to your favorite activities.
Get Started