Modular Interior System
More than just panels
Our premium conversion system has everything you need to make the interior of your van adventure ready
The A-Frame
The A-Frame is the reason you can attach a hammock to the ceiling of an Adventure Wagon with no worries. It can be thought of as the foundation of your van conversion - a support system of steel bracers throughout the van which everything else is built from or interacts with.
Electrical System
The included wiring harness comes ready to plug and play. Pre-measured leads are dropped down the pillars and run to the ceiling to power outlets and lighting. We use Blue Sea Systems corrosion resistant USB and 12V outlets, and German engineered LumiCoin LiLu Dual red/white dimmable LED lights. Once the harness is installed, attach it to your battery of choice to power your interior.
Panels
Our panels come in a variety of colors and materials. The most common is marine grade plywood and ABS molded plastic (for rounded trim pieces) upholstered with rugged Marathon tweed fabric. We also offer 100% bamboo panels, which are popular on the ceiling, and black hexa-ply plastic coated plywood.
L-Track
The Logistical Track, or L-Track, is bolted to the A-Frame and is what makes the Adventure Wagon System so modular. You can attach just about anything you can think of to this track, starting with our MOAB bed rails and Mule Bag overhead storage system. L-Track can be ordered in bare aluminum or black anodized finish.
Climate Control
Pre-cut & labeled 3M Thinsulate insulation is included with the Interior System to regulate temperature, along with Reflectix low E insulation on the back of every panel. Against the metal of the van, Hushmat sound dampening is applied for a smooth and quiet ride. Also included is a MaxxAir Deluxe fan for ventilation. As an option, we offer Espar heaters to make things cozy on frosty nights.
BEDS, BAGS, AND BEYOND!
We offer a multitude of innovative products beyond what's in the base Modular Interior System. Our patented and incredibly popular MOAB elevator bed adjusts up and down to fit bikes and other gear underneath. Whatever doesn't fit below can be stashed in our moveable (and removable) Mule Bag - a cavernous 175L overhead soft storage locker.
Shop all AdWag products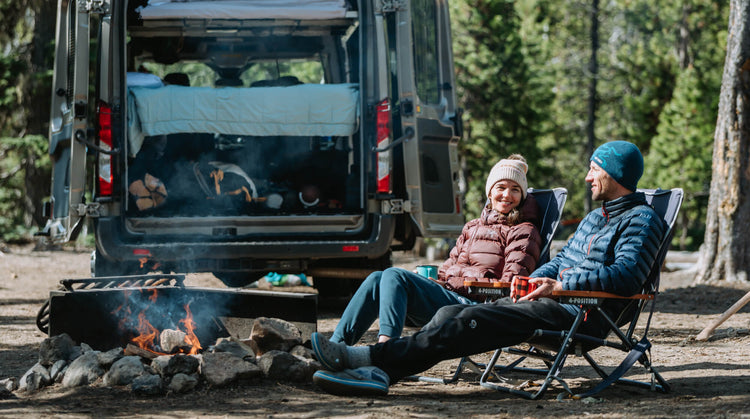 Upgrade Your Adventures
Our van configurator allows you to build your interior to match your lifestyle, from the number of passengers to your favorite activities.
Get Started