Transit High Roof Long
A capable and practical choice for an adventure van build out
The Transit's drivetrain options, ample interior headroom, and highway comfort make it an excellent candidate for an adventure van build out. The high roof mode boasts an interior roof height of over 79'' (before build-out), which is a great feature for anybody who is over 6' tall. If cross-country road trips are your jam, rest assured that its comfortable cockpit, pleasant highway manners, and powerful engine options will make the miles seem like a breeze. In addition, the newly available all-wheel drive system helps you over the snowy mountain pass without breaking a sweat. It's a relatively new player compared to the Sprinter, so aftermarket offerings are still a bit sparse by comparison. However, new products for the Transit are coming out all the time.
Configure This Van
Quick Take
Base Price: $40,820 (High roof Cargo, conversion not included)
AW System Compatibility: High Roof Cargo
Engine type: 3.5L V6 Turbo Gasoline, 3.5L V6 NA Gasoline
Total length: 19' 9"
Adventure Wagon Compatibility and Other Considerations
Interior size with AW System installed*
137" long (from behind the front seats to the rear trim)
79" high
69" – 61.5" wide (tapers from floor to ceiling)
*Measurements are approximate and were taken with the Adventure Wagon Interior System and Smartfloor installed.
*A note regarding the New Transit Trail model: We expect our system to be fully compatible for install in the Trail, however we have not yet seen one to confirm this. From the information we got from Ford, the only item that we expect to have an impact is the optional roof fan offered with the Trail model. We expect we'll be able to make accommodations for this, and have a Trail with the fan on order to do the necessary RnD.
Seating and Sleeping
The Transit 148'' is generally compared directly to the Sprinter 144, with floorplans generally following the same formulas. Just like the Sprinter, a popular way to sleep four is to set up a bunk bed by stacking two MOAB or MOAB Traverse beds on top of each other, providing room in the van for two rear seats.  For the solo or duo travelers, there's plenty of space for a full-size bed with storage underneath and/or above, and a galley either on the driver side wall, or just inside the sliding door.   
Off-road capabilities
The Transit AWD handles great in slick conditions, and will get you through most unimproved or dirt roads to your favorite camping spot. However, its relatively low ground clearance is not well suited for true off-roading. There are a couple of aftermarket options to get a bit more ground clearance; and as time goes on, there will undoubtedly be more and more offerings to squeeze a bit more off-road capability out of the Transit.   
Upkeep
Given the fact that Ford is a domestic brand, Transit owners will find much more access to service options, whether it be from the dealership or third-party mechanics. Those interested in the Transit should not overlook their base 3.5L V6 as it requires less maintenance than the turbocharged version, and has better average fuel economy.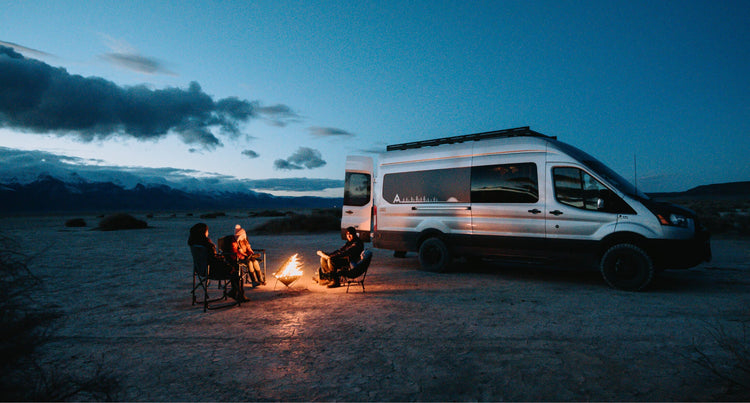 Customize Your Adventures
Our van configurator allows you to build your interior to match your lifestyle, from the number of passengers to your favorite activities.
Get Started