Mercedes Sprinter 144
2007-Present
The iconic adventure van our system was originally designed for.
When you think of a converted camper van overlanding through the desert, chances are it's a Sprinter 144. With optional AWD capabilities (4x4 in 2022 and earlier models) and a higher factory clearance than vans like the Transit or Promaster, the Sprinter is a natural choice for those wanting to tackle rougher terrain in remote locations. Because of its popularity, after-market add-ons and extras made specifically for the Sprinter are widely abundant.
Configure This Van
Quick Take
Base Price: $46,800 (High roof cargo, conversion not included)
AW Compatibility: High Roof Crew or Cargo
Engine type: Diesel 3.0L 6 Cylinder

(20

22

 and previous)

, or 2.0L 4 Cylinder
Total length: 19' 4"
Adventure Wagon Compatibility and Other Considerations
Interior size with AW System installed*
128" long (from behind the front seats to the rear trim)
74.5" high
69.5" – 56" wide (tapers from floor to ceiling) 
*Measurements are approximate and were taken with the Adventure Wagon Interior System and Smartfloor installed.
Seating and Sleeping
The Sprinter 144" wheel base is perfectly suited for two person adventures with lots extras, or four person outings using a more minimalist approach. The Adventure Wagon Interior System accommodates both Crew and Cargo models in Sprinters, so a factory backseat is an option.  A popular way to sleeping four is to set up a bunk bed by stacking two MOAB or MOAB Traverse beds on top of each other. This opens up room in the van for two rear seats.  When traveling with two, there's room for most of the amenities that you might imagine having in a van, particularly with a space-saving Traverse bed, which is meant for sleeping sideways. Keep in mind, if you're over 5' 8" or so, you'll likely want to add flares to increase the width of your van.
Off-road capabilities
The 144" wheelbase is likely your best bet for uneven terrain out of all the stock vans. The wide stock tires and generous clearance are ideal for overlanding, and the AWD (2023+ models) capabilities allow it to handle well in slippery terrain. The shorter 144" wheelbase is more ideal for off-roading than the 170", which is more susceptible to bottoming out. 
Upkeep
An oft-overlooked but important component to any van buying decision is the cost and time required for proper upkeep. Although they've earned the reputation for being a reliable vehicle, Sprinters can be more expensive to maintain due to the price of parts and the necessity to take it to a dealership to have work done.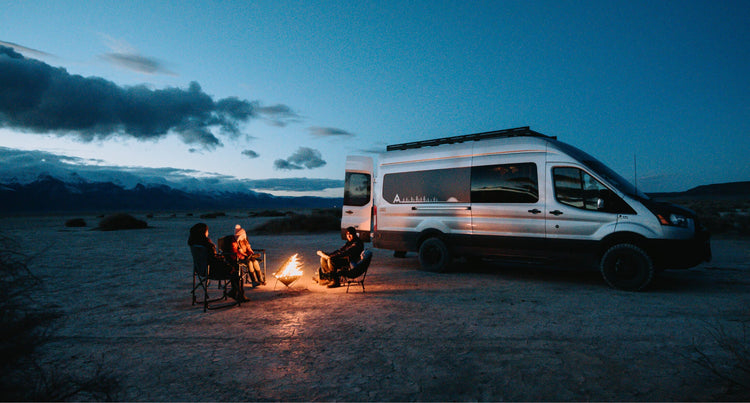 Customize Your Adventures
Our van configurator allows you to build your interior to match your lifestyle, from the number of passengers to your favorite activities.
Get Started