Popular Build - Sprinter 170
Our most popular Sprinter options, pre-configured
The spacious Sprinter 170 has ample room to seat and sleep four, or more than enough room for one or two with loads of gear. The standard Adventure Wagon Interior features are the foundation - dimmable lights, 12V/USB outlets, Maxxair fan and Thinsulate insulation. Additions like an Espar heater and bunk windows help regulate temperature, and our modular MOAB Bed keeps things versatile from one activity to the next. See below for a full list of details.
Configure This Package
Feature list:
 Standard Interior System Features
A-Frame steel support bracers
Pre-measured "plug and play" wiring harness
Blue Sea Systems USB (5) and 12V (5) outlets on lower panels
Lumicoin LiLu E dimmable LED lights
Thinsulate insulation - pre-cut and labeled 
Reflectix Low-E insulation
Hushmat for sound dampening 
L-Track connection points for versatility 
Panels - Upholstered, bamboo, or black hexa-ply
Popular Build Options
MOAB Elevator Bed
Custom mattress with cover
CRL bunk windows
Espar heater
Two Mule Bags for 350L overhead storage
Sleeping and Seating Options
Increase seating capacity with Smartfloor and seats
Increase sleeping capacity with an extra MOAB or MOAB Traverse bed
Choose your upholstery and panel materials 
This package works with these vans:
AWD capability with plenty of interior space for the adventurous family
Configure This Package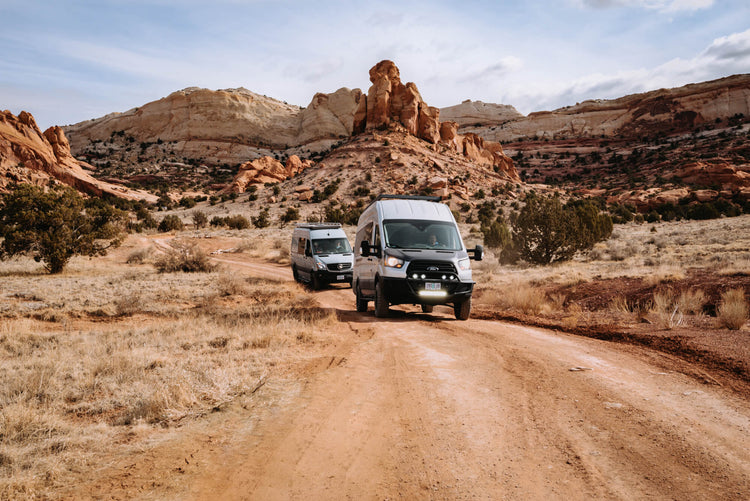 Customize Your Adventures
Our van configurator allows you to build your interior to match your lifestyle, from the number of passengers to your favorite activities.
Get Started